Welcome to the Institute's Online Resource Center
The Institute welcomes you to the Online Resource Center. Here you will find a single location, containing links and downloads of the latest studies, information, news, and data designed to help hospitals diversify their workforces and better serve their diverse patient populations.
We hope you check back often to take advantage of our growing resource database.
The AHA's Equity of Care Award is presented to hospitals or health systems that are noteworthy leaders that have moved beyond plans and achieved a high level of success in advancing diversity and equity through data, leadership, cultural awareness and partnerships. The goals of this award are to recognize outstanding efforts among hospitals and health systems that advance equity of care for all patients; to accelerate progress of the National Call to Action to Eliminate Health Care Disparities and its stated goals and milestones; and to spread lessons learned and progress toward health care equity and the promotion of diversity.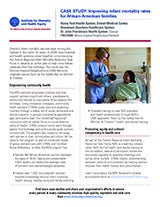 At America's hospitals and health systems, we want to make sure everyone feels seen and included – from the frontlines to the boardroom. And we're working hard to ensure that our patients feel valued and recognized as the unique individuals they are.
Diversity is becoming a key word in health care. Hospitals and health care systems are focusing on providing care that addresses the diversity of their patient populations. Hospitals also are working to increase the diversity of their leadership team, board and staff and building a culture of diversity and inclusion. This collection of case studies from the field highlights diversity initiatives at six hospitals across the country.
Henry Ford Health System, Detroit Medical Center,Beaumont-Dearborn Healthcare System, St. John Providence Health System | Detroit PROGRAM: Women Inspired Neighborhood Network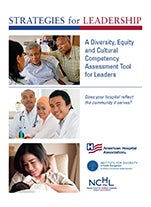 The 2017 A Diversity, Equity and Cultural Competency Assessment Tool for Leaders helps health care organizations assess their progress to create high-quality, inclusive, equitable and safe care environments aimed at eliminating health and health care disparities to improve the health and well-being of our neighbors and communities. A Diversity, Equity and Cultural Competency Assessment Tool for Leaders includes four sections:
Assessment Checklist: A tool that hospital and health care leaders can use as a starting point in evaluating the equity, diversity, inclusion and cultural competency of their organization and identifying what activities and practices are in place or need to be implemented.
Action Steps: A suggested "to do" list for how to use this tool to raise awareness within your organization.
Case Studies: Examples of hospitals and health systems that are implementing leading practices. You will find a description of their activities, as well as information for the key contact within each organization so you can learn more.
Bibliography: Resources to help you and others in your organization learn more about diversity and cultural competency.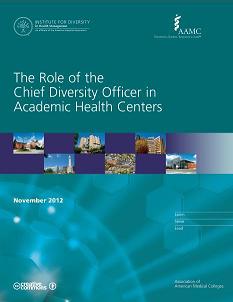 (25 pgs) Produced by The Institute for Diversity in Health Management and the AAMC.
Now more than ever leaders in academic medicine are searching for ways to "reframe the narrative" of diversity and embrace a "strategic diversity leadership" approach to selecting students, educating and training culturally competent and diverse physicians, engaging in culturally relevant research, and providing quality health care to all their patients. In response to this changing reality, an increasing number of leaders are developing chief diversity officer (CDO) roles to elevate diversity as a strategic priority for their organizations. All too often, leaders are faced with the challenge of creating these roles with little or no guidance. In response to this challenge, the AAMC (Association of American Medical Colleges) and the American Hospital Association Institute for Diversity in Health Management (AHA-IFD) commissioned this monograph for leaders in academic medicine looking to design and implement effective CDO roles in their organizations.
The AHA's 2016 Committee on Performance Improvement (CPI) engaged hospital leaders and experts in the field to identify key workforce challenges. These are challenges that already exist today and are expected to be further exacerbated as transformation continues and pressures mount with the various dynamics of a changing payment and delivery system.
The American Hospital Association 2016 Committee on Research explored what the next generation of community health may look like as hospitals redefine themselves to keep pace with the changing health care landscape. By focusing on community health in new ways, they can integrate outreach activities more closely with public health, collaborate with a wide variety of community partners and engage with the community to build an infrastructure for good health. This work acknowledges and emphasizes that investing in ameliorating the social and economic determinants of health will be as important as delivering high-quality medical services.
This Equity of Care guide provides action steps and case studies about developing a supplier diversity program.
This H&HN article by Emily Friedman, independent writer, lecturer, and health policy and ethics analyst, details the history of Medicaid and Medicare from their inception to the collective impact they have had on health care and underserved populations. Friedman was the keynote speaker at "Fifty Years of Fighting: Medicare, Medicaid, and the Transformation of American Health Care," a Sunrise Session sponsored by the Institute, Aramark, CyraCom and Scripps Health at the 2015 Health Forum Leadership Summit. An H&HN infographic detailing 50 years of Medicare can be found here.
This 2014 H&HN article by Emily Friedman discusses the impact of the 1964 Civil Rights Act on myriad aspects of hospital life.
This policy brief, released by the Institute's American Leadership Council for Diversity in Healthcare, details areas in which diversity initiatives can support efforts to achieve the Triple Aim, as well as resources to help organizations do so.
featuring results from the Institute's benchmarking survey on diversity and disparities, is a user-friendly "how-to" guide to help accelerate the elimination of health care disparities and ensure hospital leadership reflect the communities they serve. Whether your organization is beginning this journey or is already deeply engrained in this work, the compendium was created in response to your many requests to gather best practices in one convenient resource. For more information, click here or visit the Equity of Care website.
These case studies, produced in collaboration with Equity of Care, detail Institute members Novant Health and Wheaton Franciscan's diversity initiatives, including action committees, programs and system wide scorecards.
via the Tanenbaum Center for Interreligious Understanding. This page provides employers with fact sheets, surveys and additional resources aimed at ending harassment within the workplace.
by Neal Goodman, President and CEO, Global Dynamics, Inc. (2014, May).
This article outlines a four-step training approach for hospitals and health care providers to attain cultural competency within their organization, as well as the major factors that push the need for cultural competence. Posted: June 18, 2014
by Neal Goodman, President and CEO, Global Dynamics, Inc. (2014, May).
This article outlines a four-step training approach for hospitals and health care providers to attain cultural competency within their organization, as well as the major factors that push the need for cultural competence. Posted: June 18, 2014