Resources on Inclusion and Diversity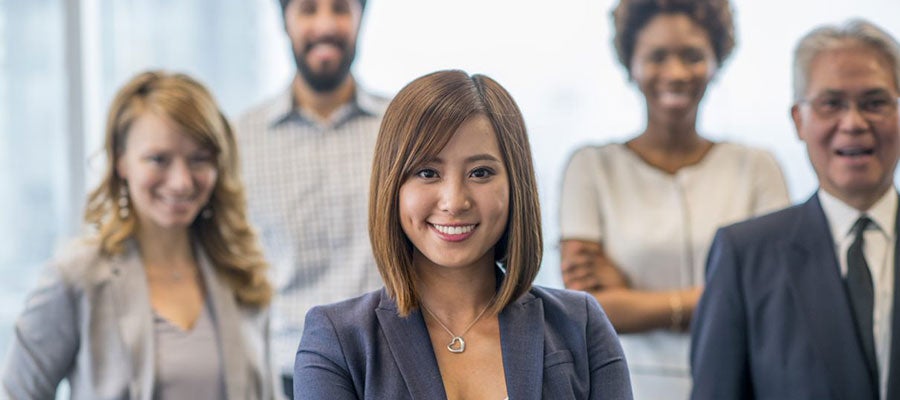 Diversity, inclusion and cultural competence training are imperative for health care organizations, as the U.S. demographic landscape continues to change. The need to understand these changes and develop sustainable business strategies for success requires leadership to manage the intersection between diversity and health care business strategy. For health care organizations, accomplishing this goal will positively impact patient experience, employee engagement, leadership development, service excellence, as well as safety and quality.
Diversity & inclusion, along with community engagement, serve as support pillars for our critical focus on overall health equity. A health care organization with a robust diversity strategy can improve the overall health of their local community by helping to eliminate health disparities and reduce the cost of care.
COVID-19 Resources and Tools
Loyola Medicine has maintained a strong partnership with its neighboring communities in Chicago's near western suburbs. Prior to the COVID-19 pandemic, this health system-community partnership was already helping residents in these economically-challenged communities in many ways, including providing nutritious food on a more regular basis. But the coronavirus outbreak has not slowed down the partnership's efforts of leveraging innovation to help improve the lives of community residents.
Racial and socioeconomic inequity persists in health care quality. An exploratory interview with three hospital leaders substantiated by a review of the literature reveals that hospitals are collecting race, ethnicity and primary language data about their patients. Leading hospitals are now moving beyond data collection to analyzing and using the data to develop targeted interventions for improving access to care for underserved populations.
Screening for Social Needs: Guiding Care Teams to Engage Patients is a tool to help hospitals and health systems facilitate sensitive conversations with patients about their nonmedical needs that may be a barrier to good health. It is the latest effort by The Value Initiative to promote the field's work to drive value by lowering cost and improving outcomes.
As the COVID-19 crisis continues to sweep the nation, an additional concern has come to the forefront of conversations in hospitals and health systems: addressing racism and xenophobia. While organizations seek to address the virus itself, individuals from underrepresented and diverse backgrounds face this additional challenge.
Case Studies
At America's hospitals and health systems, we want to make sure everyone feels seen and included – from the frontlines to the boardroom. And we're working hard to ensure that our patients feel valued and recognized as the unique individuals they are.
Podcasts
IFDHE interim executive lead, Elisa Arespacochaga, speaks with health system chief diversity officers Juana Slade and Anton Gunn about how hospitals and health care leaders can be part of a solution to prioritize and invest in building a community that doesn't tolerate racism.
In this podcast, Darren Henson, AHA's director at the Institute for Diversity & Health Equity, explores how despite the COVID-19 outbreak, Loyola University Medical Center – serving the Chicago area – remains committed to its partnership with a community-driven, multi-sector coalition. Professor Lena Hatchett, PhD, from Loyola's Stritch School of Medicine, shares how the relationship between the medical center's physicians and clinical staff with Proviso Health Partners ensures ongoing patient needs.
As March ushers in Women's History Month, our new Advancing Health podcast "Black History & Women's History Months: A Conversation with our Board Chair" features an interview with Kimberlydawn Wisdom, M.D., a remarkable leader who was recently recognized on Modern Healthcare Magazine's list of Top 25 Minority Leaders. Listen as she shares insights and stories about the influential people throughout her life who've guided her path to success in this new podcast conversation with Darren Henson, Ph. D., IFDHE director of operations.
Webinars
Part of the Institute for Diversity and Health Equity's Diversity Dialogue series, in this webinar Joseph A. Greco M.D. and Joanne B. Glusman, MSW, LSW of Main Line Health discussed how to ensure that all in the community, especially those most vulnerable, can access highly competent and welcoming medical care. Participants were made aware of the disparities the LGBTQ community faces, and how Main Line Health's LGBTQ Inclusive Care program addressed these issues through training and partnerships, improving access to equitable care for all.
This enhanced training presented by Tanenbaum will dig deep into specific, timely topics like conscience objections and unconscious bias. It will also give participants more opportunities to apply and practice new tools and skills to tackle complex circumstances of religion as a component of patient-centered care.
Diversity Dialogue Webinars are one of the most popular programs in which a different nationally-renowned speaker discusses a topic of pressing concern in health care. While enjoying the audio presentation, attendees log in via a computer and view the accompanying slideshow presentation.
Blogs
Darren Henson, Ph.D., Director of Operations for the AHA's Institute for Diversity and Health Equity, highlights Larry Kramer, a literary giant and iconoclast who founded the AIDS Coalition To Unleash Power, or ACT UP, which roused frightened and dying gay men to protest against government indifference.
How has health care advanced in LGBTQ communities? Dr. Carl G. Streed Jr., M.D., MPH, assistant professor of medicine at Boston University Medical Center provides his perspective on a personal mission for improvement.
Hospitals and health systems continue to provide care for our most vulnerable communities by addressing social needs, educating on COVID-19 risks and collaborating with community organizations to expand these efforts beyond their walls, writes Elisa Arespacochaga, vice president of AHA's Physician Alliance and interim executive lead of AHA's Institute for Diversity and Health Equity. This AHA blog shares new AHA resources addressing the social determinants of health and meeting the needs of vulnerable populations during the pandemic.
With 57 million Americans living in rural areas and dependent on the nearest hospital for most of their care needs, it is more important than ever to preserve the viability of access to care in rural America. This includes ensuring a suitable workforce. Moreover, rural hospitals are particularly sensitive to the impact of demographic changes faced by their communities. Northern Light Health, an integrated health system serving Maine, embraces the shifting demographics of its patients and of an increasingly diverse, foreign-born workforce. Doing so allows the system to strengthen access to high-quality, equitable health care.
Health equity has significant impact on the patient experience, which is an essential tenet of health care value. As part of a four-part series examining how health equity influences health outcomes, finances, and affects the length and quality of our lives — Priya Bathija, vice president of AHA's The Value Initiative, and Duane Reynolds, president and CEO of the AHA's Institute for Diversity and Health Equity, address how equity impacts the patient experience.
News
AHA Chair Melinda L. Estes, M.D., AHA Chair addresses the American Hospital Association's commitment to helping address and end racial, ethnic and cultural inequities.
AHA President and CEO Rick Pollack issues a statement in response to the killing of George Floyd and the unrest throughout the country.
Programs
Diversity, inclusion and cultural competence are imperative for health care organizations, as the U.S. demographic landscape continues to change and regulatory agencies continue to implement requirements to improve safety and quality, reduce health care disparities and create more affordable care for patients. A health care organization with a robust diversity strategy can impact the overall health of their local community positively by helping to eliminate health disparities and reduce the cost of care. The Certificate in Diversity Management in Health Care (CDM) builds effective, diverse leaders who can help drive those results.
Each fall, the Institute for Diversity and Health Equity partners with various hospital and health systems across the country to provide an 18-20 week paid internship opportunity for academically strong, diverse individuals. This opportunity is aimed at students who have completed their health care oriented graduate degree within the last two years.
The Institute's Summer Enrichment Program (SEP) places diverse, graduate students pursuing advanced degrees in health care administration or a related field in 10-week, paid internships within health care organizations. Experienced administrators serve as preceptors and mentors, providing support and career advice as well as those critical early-career connections.