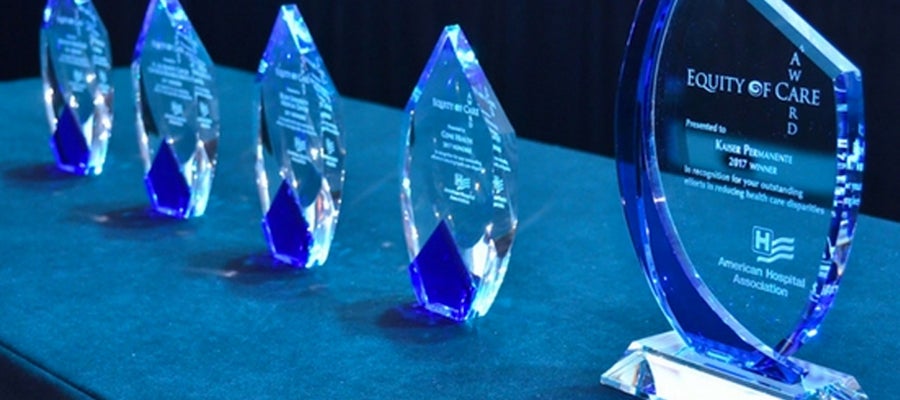 Carolyn Boone Lewis Equity of Care Award
The American Hospital Association's (AHA) Institute for Diversity and Health Equity (IFDHE) is pleased to announce a revision to the criteria for the prestigious Carolyn E. Boone Equity of Care Award.
The award is given annually in recognition of outstanding efforts among hospitals and health care systems to advance equity of care to all patients and to spread lessons learned and progress toward diversity, inclusion and health equity. To provide more equitable opportunities for various types of hospitals and health systems to be recognized for advancing health equity, IFDHE has redesigned the awards so that hospitals and health systems can apply to the category that best represents their progress on the health equity journey.

The application period for the 2023 Carolyn Boone Lewis Equity of Care Awards is now open. Please start your application here.
FAQ:

1. When is the application period?
The application period begins on September 26, 2022 and will close on November 18, 2022.
2. How do I access my application?
Applications can be accessed through Qualtrics here.
3. Can my organization apply for more than one award?
Organizations should choose one of the three awards categories for which they believe their organization best qualifies.
4. Does my hospital system have to be at the "Transforming" position on the continuum in order to apply for the Transforming category?
No, your hospital system does not have to be at the Transforming position on the continuum to apply for the Transforming Equity of Care Award.
5. Who in my organization should fill out this application?
Examples of departments/roles that may be helpful in answering the application questions include:
i. Office of the Chief Health Equity Officer
ii. Office of the Chief Diversity and Inclusion Officer
iii. Office of the Chief Medical Officer
iv. Office of Strategic Initiatives
v. Community Health/Population Health Departments
vi. Office of the Secretary (Board/Governance Initiatives)

6. When will I be notified about my application status?
Applicants will be notified of their application status in May 2023.
For more information about the Equity of Care Awards, please email equityofcare@aha.org
2022 Award winners
Mount Sinai Health System - New York City (Winner)
Novant Health - Winston-Salem, N.C. (Honoree)
Thomas Jefferson University/Jefferson Health - Philadelphia, PA. (Honoree)