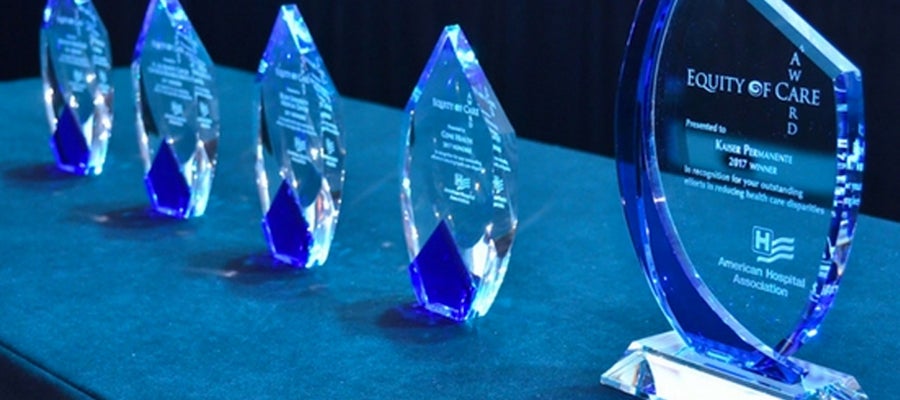 Honoring Dedication and Innovation: The 2020 Equity of Care Award Winners
By Elisa Arespacochaga
Carolyn Boone Lewis was determined to make a difference. She was a tireless advocate for everyone to benefit from health care equity, while serving as the trustee of a safety net hospital. She later became the first African American and first hospital trustee to chair the AHA Board. Shortly after her death in 2017, the AHA officially renamed its annual award that recognizes outstanding efforts among hospitals and health care systems to advance equity of care to all patients – The Carolyn Boone Lewis Equity of Care Award.
The award embodies the principle components of the #123ForEquity campaign pledge – a longstanding, national effort encouraging hospital and health system leaders to take action in accelerating progress in the following areas:
Increasing the collection and use of race, ethnicity, language preference (REaL) data and other socio-demographic data
Increasing cultural competency training
Increasing diversity in leadership and governances
Improving and strengthening community partnerships
Not only does the award honor hospitals and health systems developing best practices that support equity of care, but those that also spread lessons learned and insights on achieving health equity. Carolyn Boone Lewis Equity of Care Award winners are leaders in championing equity throughout the health care profession.
This year, The American Hospital Association's (AHA) Institute for Diversity and Health Equity is presenting the award to Cone Health in Greensboro, N.C. In addition, Chatham Hospital in the rural community of Siler City, N.C.; and Henry Ford Health System in Detroit are being recognized as honorees.
Full details on all award winners, including more on their innovative efforts at improving health equity, are available in our press release and in our new video.
Innovative ideas and proven tools for supporting and advancing health equity, diversity and inclusion efforts can be found in our new Essential Health Equity, Diversity and Inclusion Resources guide.
Taking the lead on improving public health equity, particularly during the coronavirus pandemic of 2020, and initiating action to help others overcome barriers to quality health care requires a bold strategy that should inspire others to follow suit. Cone Health, Chatham Hospital and Henry Ford Health System are setting examples of how medical centers of all sizes can take the lead to ensure everyone's health care needs, regardless of zip code or community.
Elisa Arespacochaga is Vice President of the AHA Physician Alliance and interim executive lead of AHA's Institute for Diversity and Health Equity.