Spotlight Feature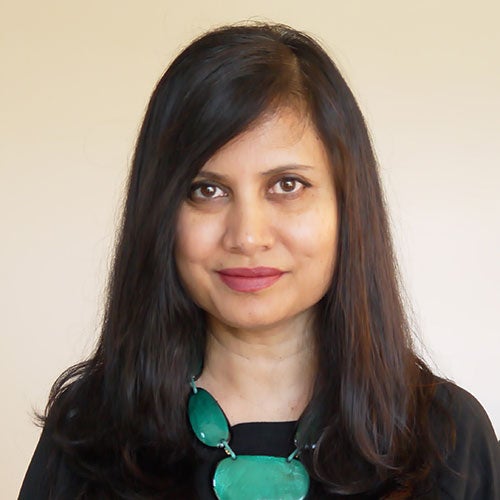 Muna Siddiqi, MBA, MS, RD, CDCES
Diabetes Care and Education Specialist
Swedish Covenant Hospital
Background: Swedish Covenant Hospital on Chicago's North Side was seeing an average of 10 patients with diabetes hospitalized each day. It also experienced a 30-day diabetes patient readmission rate of about 17% throughout the year – that's far higher than the overall patient average. In addition, the hospital had identified diabetes health disparities among Asian and Latinx populations in its community. In order to turn things around, the hospital developed a plan to better connect with adult patients, remove barriers to care and establish a new diabetes management program featuring patient coaching sessions.
Thanks to a health equity grant delivered through a collaboration between the American Hospital Association's Institute for Diversity and Health Equity (IFDHE) and Blue Cross Blue Shield of Illinois (BCBSIL), the hospital extended free diabetes education services to uninsured and underinsured patients through its accredited, self-management diabetes education program offered by its Diabetes Community Center (DCC). The hope is to connect at least 125 diabetes patients from low-income households with certified educators who will provide guidance, education and coaching sessions to help residents better manage their diabetes. An additional goal is to pilot the collection of race, ethnicity, and language preference (REaL) as well as sexual orientation and gender identity (SOGI) data.
In this month's Spotlight Feature interview, Muna Siddiqi, a registered dietician, diabetes clinical coordinator, and education specialist at Swedish Covenant Hospital, elaborates on the nature of the program and how it aims to help improve diabetes-related care throughout its community.
Why did your hospital decide to move forward with this new initiative?
We wanted to reach diabetes patients that weren't seeking help because they were afraid of the cost of care. At Swedish Covenant Hospital we have our DCC which offers diabetes education to patients with pre-diabetes, diabetes and gestational diabetes. Some of our patients are uninsured or underinsured. We offer a subsidized rate for these patients, but sometimes patients still can't afford to pay the subsidized rate. This new initiative is designed to overcome affordability barriers and will provide access to care to the patients who otherwise couldn't afford the cost.
"Our program is also designed to remove barriers to care that were preventing patients from seeing us."
What is the goal of your program and how do you anticipate your efforts will impact patients?
The goal of our project is to provide diabetes education to the underserved population.
We want to connect 125 low-income diabetic patients 18-years-of age and older (including type 1, type 2, pre-diabetes, and gestational diabetes) with individual diabetes management education and coaching sessions. Additionally, we are looking to measure and track A1C levels at the initial diabetes session and at the third session. In 2019, 83% of our patients showed reduction in A1C after attending an education session. We anticipate improved chronic disease management for the patients diagnosed with prediabetes, gestational diabetes or diabetes.
Our program is also designed to remove barriers to care that were preventing patients from seeing us. These types of barriers are related to language translation issues, interpretive services and transportation needs.
How are you leveraging your community partnerships to support this new program?
We have three community partners and they are very engaged in reaching out to our ethnically diverse population so residents may gain access to diabetes education classes. Our Community partners are: HANA Center, which serves the Korean American as well as multiethnic immigrant communities, the Albany Park Community Center and the Indo American Center.
I am in communication with each community partner, providing them guidance from the hospital's perspective. For example, I provided the presentation on diabetes prevention and management at the Albany Park Community Center, where online diabetes education classes are offered. In an effort to reach those whose primary language is not English, our marketing team at the hospital developed program information fliers and the community partners helped create versions in different languages.
What information would you share with others about advancing health care equity within their organization?
We will be collecting pre and post-education data that would include A1C, eating and exercise habits and blood glucose monitoring. We can study the impact of education on these behaviors and share the results with other member hospitals.
By extending care to lower-income community members and eliminating previous barriers that prevented them from accessing services, we are able to treat more diabetes patients in need of quality care and collect critical data to chart their results. We hope to help other hospitals create a similar model to advance health care equity within their organizations.