Spotlight Feature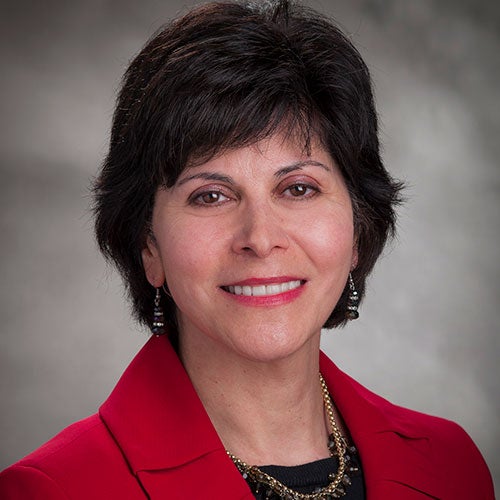 Jeanne Ang
Director of Community Health, Northern Illinois Region
Advocate Sherman Hospital, Elgin, Ill.
Background: Advocate Sherman Hospital launched its Diabetes in the Latino Community program to help residents in and around Elgin, Ill., about 40 miles northwest of Chicago. The hospital prioritizes diabetes prevention and education because of the ailment's high prevalence in Elgin's patient population (between 10.8-12.4%), including a high number of Latinos. Advocate Sherman's program was developed with extensive input from local Latino community leaders and is built on key partnerships to assist with outreach and education.
With funding and technical assistance from the health equity grant collaboration between the American Hospital Association's Institute for Diversity and Health Equity (IFDHE) and Blue Cross Blue Shield of Illinois (BCBSIL), Advocate Sherman expanded the program to include a diabetes self-management curriculum — a six-week evidence-based series of educational sessions, with materials available in English and Spanish. The curriculum relies on peer-to-peer support to teach participants how to self-manage their chronic disease.
Jeanne Ang, director of community health for Advocate Health Care's northern Illinois region, describes how a community health strategy that includes community health needs assessments helps more diabetes patients.
Why did your health system decide to move forward with this new initiative?
We wanted to refine our current initiatives that focus on improving the health of our patients with diabetes in our community. Of particular importance was creating greater connections with patients whose primary language is Spanish.
"Issues such as the digital divide, food insecurity and unemployment are greatly affecting some of the patients we serve."
What is the goal of your program, and how do you anticipate your efforts will impact patients?
The overall goal is to increase the Latino Spanish-speaking patients' knowledge and understanding of how to self-manage their diabetes through public health education and completion of the six-week Diabetes Self-Management class. We anticipate that our efforts will increase participants' knowledge and skills in self-management and are hopeful that the self-management class will provide an opportunity for peer support for those struggling with diabetes management.
How did community partnerships factor into efforts to build this new program?
Our primary partner in this project is the Gail Borden Library. This local library offered to host space for participants to join virtual classes in a safe, social-distanced manner in a library conference room. Many in our community are struggling with access to virtual meetings due to lack of internet access, limited data plans or because they don't have a computer. The library also hosts Facebook Live sessions with one of our nurses who teaches diabetes self-management. Additionally, the library promotes the six-week class and Facebook Live session through outreach to their library patrons list.
"The most important thing is to invest time building partnerships with local organizations serving the same patients you serve."
Does a clearer understanding of socioeconomic conditions impacting patients and other barriers to achieving health equity help you build a better program? How?
Yes, absolutely. We have always been very aware of the economic challenges and social determinants that are affecting our patients' health. During the COVID-19 pandemic, these barriers have become even more magnified. Issues such as the digital divide, food insecurity and unemployment are greatly affecting some of the patients we serve. We are trying to incorporate increased awareness of these issues with our Advocate Sherman Hospital staff and work to connect patients with resources, wherever possible through our community health workers, care managers and our Mobile Integrated Health program.
What information would you share with others about advancing health equity within their organization?
The most important thing is to invest time building partnerships with local organizations serving the same patients you serve. This includes everyone from social services, federally qualified health centers, food pantries and local libraries. Once this network is established, you can connect patients to these agencies for resources and education on critical issues, such as COVID-19 prevention or other relevant health topics. These agencies are key partners in meeting the needs of the community – mental health, social and physical health needs.
Additionally, our system invested a great deal to educate the community about our Safe Care Promise – where we are making every effort during this pandemic to ensure that patients are safe when they come into our hospital or outpatient facilities. We've also extended our Safe Care Promise outside of the hospital by implementing extensive COVID-19 prevention education and increasing access to COVID-19 vaccinations in communities disproportionately affected by the pandemic.