Spotlight Feature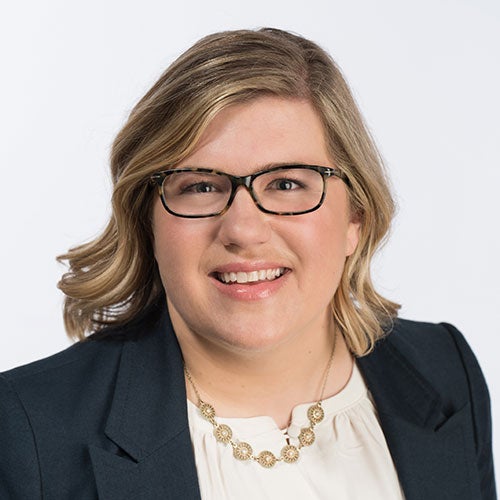 Kari Beth Watts, D.O.
Clinical Assistant Professor
University of Illinois College of Medicine, Peoria
UnityPoint Health – Methodist Hospital, Peoria, Ill.
Background: The rate of preterm deliveries and low birth weights in the community served by UnityPoint Health's Methodist Hospital in Peoria showed a troubling trend that had been documented over the last few years. African American mothers were experiencing preterm deliveries at a much higher rate compared to white mothers (14% vs. 6.9%). There was also an increase in the number of African American low birth weight babies compared to white low birth weight babies (9.3% vs. 4%). In order to close this maternal health racial disparity gap, health care professionals knew they needed improved community outreach to assist expecting mothers in a more supportive setting.
With help from the health equity grant collaboration between the American Hospital Association's Institute for Diversity and Health Equity (IFDHE) and Blue Cross Blue Shield of Illinois (BCBSIL), UnityPoint launched its CenteringPregnancy Care to Mitigate Racial Disparities Program. It's an evidence-based prenatal care and peer support program designed to lower rates of preterm and low birth weight babies. The program also aims to encourage infant breast feeding and reduce the rate of neonatal intensive care unit (NICU) admissions. In this month's Spotlight Feature interview, Kari Beth Watts, D.O. at UnityPoint Health, elaborates about the program's roots and goals to improve overall maternal and child health.
Why did your hospital decide to move forward with this new initiative?
After our local health departments released a tri-county maternal and child health report in 2017, our team of physicians noted a significant racial disparity in maternal and neonatal health outcomes, specifically among the rates of preterm birth and low birth weight infants. African American women in our community are at least twice as likely to experience these outcomes compared to white women. Upon reviewing birth outcomes at our hospital specifically, these trends held.
"This program facilitates discussion and support between the women in a healthy way, offering a sense of community."
As family medicine teaching physicians who practice obstetrics in a high-risk, majority African American population, we recognized that we were well-positioned to make an impact in this arena. We learned that group prenatal care, specifically the CenteringPregnancy model, is an evidence-based approach that has been shown in medical literature to improve rates of preterm birth, often narrowing or even eliminating existing racial disparities in this outcome. The scope of the maternity care crisis in this country, and in our community specifically, demanded that we adapt, innovate and get creative. Launching the CenteringPregnancy Peoria initiative was our response to that call.
What is the goal of your program and how do you anticipate your efforts will impact patients?
The overarching goal is to advance racial equity in maternal and neonatal health outcomes by using the CenteringPregnancy approach to decrease the rate of preterm birth and low birth weight infants among the patients that we serve. We hope to narrow and eventually eliminate the existing racial disparity in these outcomes between African American and white women.
In the process, we are confident that the group prenatal care model will enhance maternal education, care satisfaction and a sense of community among women in the group. Our patients will have the opportunity to discuss their fears and stressors in a supportive environment, learn from other mothers and access key community resources. Each of these elements likely contributes to the "secret sauce" that has made this program successful across the country, impacting clinical outcomes in a powerful way.
Does a clearer understanding of socioeconomic conditions impacting patients and other barriers to health equity help you build a better program? How?
Yes, definitely! That's a major factor in the likely success of this program.
In this group prenatal care model, each visit is 90 minutes long and the curriculum is structured to cover a variety of topics. Over the course of each patient's pregnancy, the expectant moms now have nearly 10 times more overall time with their physician, offering our team the opportunity to identify multiple social determinants of health that may be contributing to the patient's well-being.
This program facilitates discussion and support among women in a healthy way, offering a sense of community. The further education and assistance provided by this grant is very helpful and continues to enhance our work.
"We are often challenged, as we recognize that we play a role in the development and perpetuation of existing disparities. It's important to work through these feelings and acknowledge bias as we see it..."
If you have a community partner, how did this partnership factor into efforts to build this new program?
We have had a longstanding relationship with Heartland Health Services, as our family medicine residency has staffed one or more of their prenatal clinics for several years. As a federally qualified health center, they are another key resource in this community for access to primary and maternity care among the uninsured and underinsured population.
Heartland has been a strong partner, and quickly mobilized to allow our very first CenteringPregnancy group to launch at one of their clinics back in 2017 while we were still in preparations to launch at our core site with UnityPoint Health. Heartland is invested in the success of this program, demonstrating their commitment by allocating staff and resources to this effort. They have invested in advertising for this program by targeting the highest risk zip codes. In addition, Heartland facilitates regular meetings with the steering committee. We also have a strong relationship with the Peoria City/County Health Department, whose initial report and needs assessment prompted this initiative. The department continues to offer guidance on this project.
What information would you share with others about advancing health care equity within their organization?
Engage key stakeholders early, such as your local health department and other clinics/organizations that serve your target population. It is much harder to get a true sense of the depth and scope of a particular issue if you are each working in individual silos.
Review your most recent community needs assessment and network with the professionals who completed it – then, you can work together to identify and tackle the most pressing issues. At times, these problems can make individual providers or health care organizations uncomfortable.
We are often challenged, as we recognize that we play a role in the development and perpetuation of existing disparities. It's important to work through these feelings and acknowledge bias as we see it; this attitude provides the healthiest environment for improvement. Collaboration also reduces redundancy, improves efficiency and enhances buy-in.