Leading With a Ministry of Presence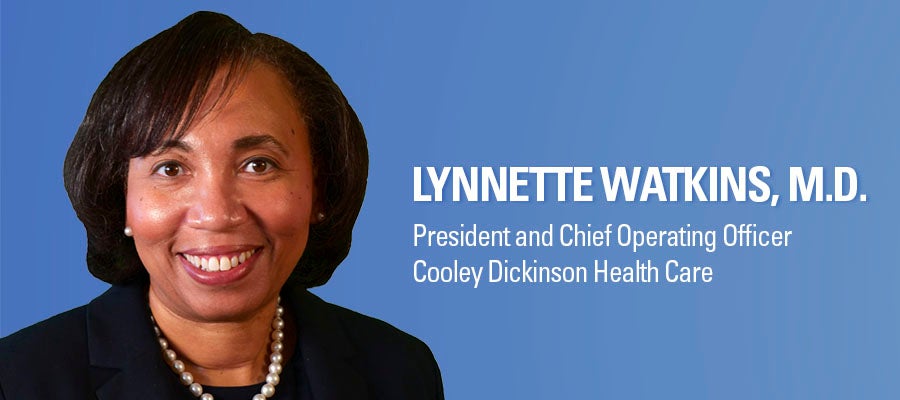 "No matter who you are, what you look like, where you are from or who you love — we are here for you."
This is often the mantra I give as I speak about Cooley Dickinson Hospital, a member hospital of Mass General Brigham. It is an honor and privilege to serve as Cooley Dickinson's president, and as the first African American woman to lead a Mass General Brigham facility. Cooley Dickinson is committed to the health and wellness needs of western Massachusetts residents and serves many diverse communities, including a large LGBTQ+ population. Our focus on inclusion and equitable health care is critical to everyone who relies on us for care.
I always wanted to follow in the footsteps of my father, one of the first African American ophthalmologists in St. Louis. After completing my residency at Massachusetts Eye and Ear (MEE), and an oculofacial plastic surgery fellowship at the University of Iowa, I joined the faculty at MEE. Whether in a faculty practice, or subsequently in private practice, the chance to provide direct patient care was a wonderful and unique opportunity. However, I felt a passion to connect with the community on a broader level. 
The focus on community service led me to change career paths and transition to healthcare administration. It was another opportunity to lead, guide and mentor others, particularly physicians. As an African American woman, I realized that while the journey may be more difficult, the opportunity to mentor and impact others was great. I was motivated by an internal drive to succeed, to be a role model and to serve others.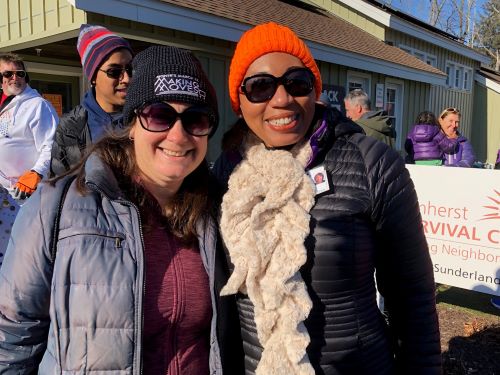 Lynnette Watkins with Lindsay Sabadosa, Massachusetts State Representative, 1st Hampshire District, at the 2022 Monte's March. This annual event is sponsored by the Food Bank of Western Massachusetts and raises funds for families who are food insecure. 
 
My journey has not been easy, but it has been rewarding. Leading others takes courage, conviction, humility and optimism. It also means being fully present, for others and for self, particularly in these challenging times. The COVID-19 pandemic, workforce shortages, racial unrest and a host of geopolitical events worldwide have traumatized our physical and mental health. My spouse, Rev. Ed Sackett, introduced me to the concept of "ministry of presence." Ed experienced this approach during his hospital-based clinical pastoral education training. The premise is that as patients move through complex systems, loneliness adds to anxiety and fear. Focusing on mind, body and soul aids in their healing. 
As leaders, our responsibility is to create a healing environment for our patients, providers and staff. Whether rounding in the hospital or at ambulatory clinics, I stay present with those around me. As an extrovert, interacting with others boosts my spirits. These connections feed my soul and remind me of my purpose.
For our patients, providers, staff and community, being mindful offers grace, support and optimism. Being present is essential, particularly as we emerge from challenging times and look to the future. By leveraging my "ministry of presence," I continue to show others — including those who look like me — what is possible. 
Lynnette Watkins, M.D., is the president and chief operating officer of Cooley Dickinson Health Care in Northampton, Mass.