Leadership in Health Care: So Much More Than Running a Hospital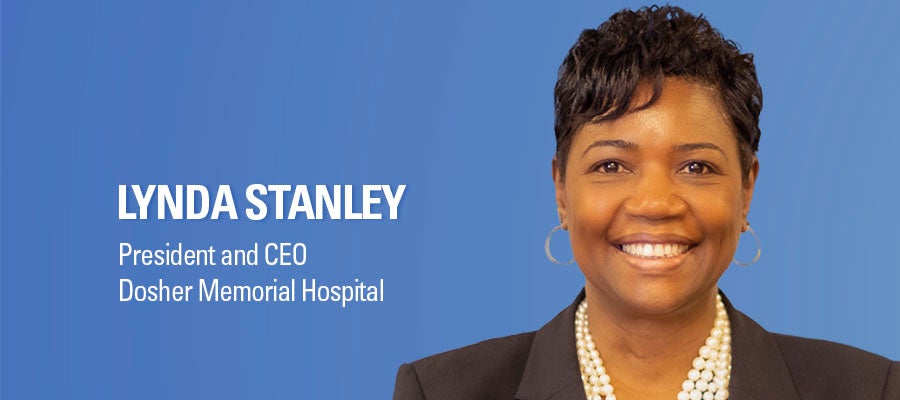 I grew up knowing I wanted to be in health care. During my childhood, my family ran a family care home, which set the compass for me from a very young age about my desire to help others. I earned a bachelor's degree in medical technology from the University of North Carolina Greensboro and came to Dosher Hospital in 1986 to manage the hospital lab. With the encouragement of Arthur Pittman, the hospital chief executive officer at that time, I decided to pursue my master's in healthcare administration. This led me to serve as the chief operating officer of Dosher and then becoming the president of the Dosher Foundation, before taking on my current role as president and CEO. 
My tenure with the Dosher Foundation enabled me to cultivate significant partnerships within our community. Partnering with numerous service and nonprofit organizations made it apparent that we all had similar goals of improving the quality of life for our residents. For example, we provided support in their ability to identify and meet wellbeing needs in areas such as health care, housing and food security. Living in a rural area with several poverty pockets, I realized that some of the most important work I would do as a leader in health care would happen outside of the hospital and in the community.   
In 2016, I had the privilege of working closely on behalf of Dosher with three other community partners to help form the Brunswick Wellness Coalition — a group consisting of individuals and health-minded leaders. It was funded through the Duke Endowment's Healthy People, Healthy Carolinas, with the mission to improve the health of Brunswick County. The coalition began with four organizations and now has over 40 partners. Together, we collaborate to improve the health outcomes of diverse populations through a health equity lens to provide tools, outreach and programming. 
A few of the vehicles we use to create and measure improvement are education, health screenings, access to nutritious food and physical activity. Since the formation of the coalition, Brunswick County has improved its overall health ranking from 45th to 25th, with specific outcome improvements in areas such as diabetes, heart disease, adult obesity, physical activity, increased fruit and vegetable consumption and fall-related hospital admissions.   
The sharing of resources and support plays a large role in what has helped enact these positive changes. The improvement in our county's health ranking took more than the vision or commitment of one organization, but that of many sectors including healthcare, business, government, fitness, human services, education and the faith community. One of the most valuable lessons I can share as a health care leader is to look outside of your walls and doors. When you take care of your community, you take care of your patients; and to take care of your community, collaboration is the key. For me, leadership, isn't about what I do myself. It's about knowing who to invite to the table to create the greatest amount of impact. 
 
 
Lynda Stanley is the president and chief executive officer of Dosher Memorial Hospital.