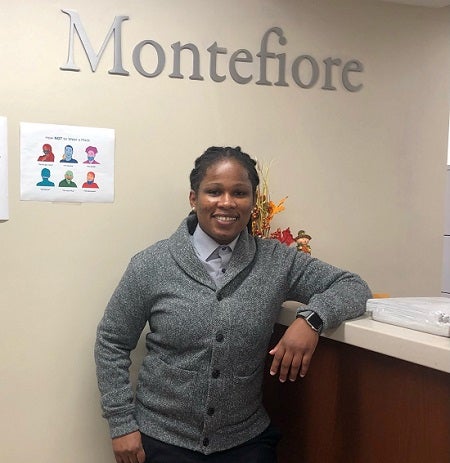 Paid Internships are Win-Win Opportunities for Students and Hospitals
By Benjamin Wilburn
Shanessa Stewart, a graduate of the AHA Institute for Diversity and Health Equity's Fall Enrichment Program (FEP) is on her way to a promising career after a successful internship at Montefiore Medical Center in New York City. Upon completing her internship, Stewart moved into a new role at Duke Primary Care as an Administrative Fellow, a role that she hopes will lead to a career as a health administrator.
The FEP is a paid internship opportunity designed to advance the careers of young health care leaders, strengthen the diverse pipeline of talent and promote diversity and representation within the workforce.
While at Montefiore, Stewart gained valuable insights by managing a project all the way through its completion – a skill she says was developed through her internship. "Owning a practical project from commencement to conclusion during my FEP term was helpful to gain experience as the expert and presenting in meetings. Once I start managing projects in my current role, the project management skills I utilized during my internship will be critical to my success."
Stewart's internship also included many fun moments, including a mid-day break last winter when her project that day was to build a snowman.
"The FEP provides opportunities for hospitals to invest in aspiring leaders and assist with skill development. It is structured to help new graduates explore their career while learning and adding value to a hospital via impactful project work. It's a win-win," said Stewart when asked why hospitals and health systems should participate in the Fall Enrichment Program.
Students such as Stewart have the power to positively impact the future of health care and host sites serve as an important first step.
Each fall, the FEP provides internship opportunities for recent graduates from diverse backgrounds eager to begin their career in health care administration. Hospitals and health systems across the country sign up to be a part of this important journey, offering an immersive on-site experience for the student and a direct connection to new and upcoming talent for the host site.
Host site applications remain open until Sept. 6, 2021. For more information, visit the Fall Enrichment Program page.
Benjamin Wilburn serves as senior diversity and inclusion specialist for the AHA's Institute for Diversity and Health Equity