Using Innovation to Advance Health Equity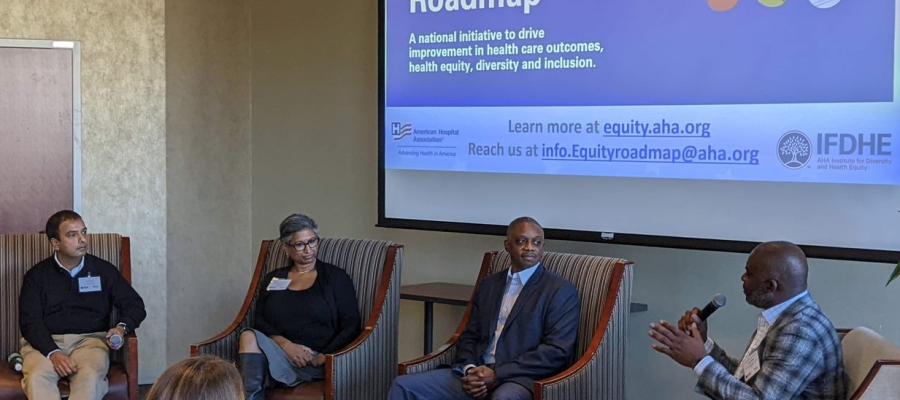 What's at the heart of progress? Some might say it's innovation. That is the lens through which AHA and our Institute for Diversity and Health Equity (IFDHE) have undertaken a series of meetings with stakeholders in the diversity, equity and inclusion space.
Our most recent Health Equity Innovation Summit took place Oct. 10 in AHA's Region 6, which includes members from North Dakota, South Dakota, Nebraska, Kansas, Iowa, Missouri and Minnesota.
This one-day event brought together C-suite hospital leaders, community members and patient advocates to explore regional challenges and co-develop potential solutions to accelerate actions to advance health equity. The session was designed to be interactive and inclusive of diverse perspectives.
A fireside chat, moderated by Leon Caldwell, IFDHE's senior director, health equity strategies and innovation, addressed how health systems and communities in the country are facing unprecedented public health and health care challenges, and how we might use this historical time period for social innovation to advance health equity. Fireside speakers included Michael B. Jackson, vice president and global head of industries at DocuSign; Rahul Koranne, M.D., president and CEO of the Minnesota Hospital Association; and Taj Mustapha, M.D., associate professor of internal medicine and pediatrics, and chief equity strategy officer at M Health Fairview.
Here's what was discussed:
The concept of innovation isn't what's new — it's about the need to center community voices.
Hospitals should revisit how they systematically capture data and should be intentional about ways to probe and question the findings.
To advance health equity, it requires looking at the root causes and developing actionable solutions to address them. Hospitals and health systems should consider prioritizing community-led work to build trusting relationships and social capital to improve health.
Attendees can look forward to receiving a Region 6 solutions brief — a high-level document that captures the thoughts, ideas and solutions to advance health equity across the region, using the Health Equity Roadmap as a guiding framework for change.