Are you the next Mount Sinai Health System? Apply for a 2023 Carolyn Boone Lewis Equity of Care Award and find out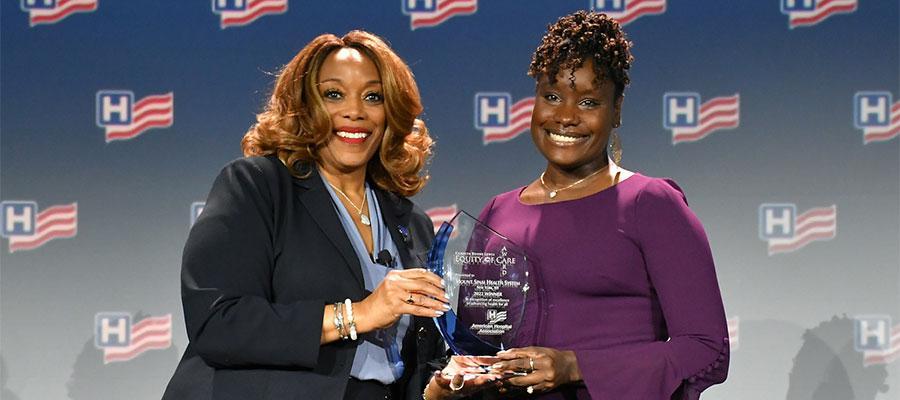 This past July, leaders from hospitals and health systems nationwide gathered for AHA's Leadership Summit, a celebration of quality in health care and a premiere opportunity for dialogues about how our field is supporting the patients and communities they serve. During the Summit, AHA presented Mount Sinai Health System with the 2022 Carolyn Boone Lewis Equity of Care Award in recognition of its stellar work to promote and advance health equity in New York City and its surrounding communities.
The Equity of Care Award is among AHA's most important honors, because it tells the story of how hospitals and health systems across the country continue to do impressive and innovative work in the health equity space. We present it annually because we believe organizations like yours continue to lead in their community through inclusive and equitable practices. We know there are more stories and examples out there, waiting to be told, of the trailblazers in equity initiatives. Help us tell your story by applying for the 2023 Carolyn Boone Lewis Equity of Care Awards!
This year, the prestigious award has been expanded to three categories to provide more equitable opportunities for all types of hospitals and health systems to be recognized.
The three updated categories are:
Transforming – Recognizes a hospital system that is implementing strategies to influence equity in the surrounding community ecosystem.
Emerging – Recognizes an individual hospital that is leveraging the Health Equity Roadmap resources to dismantle structural barriers in their care delivery system and the communities they serve.
Small/Rural Hospital Excellence – Recognizes a hospital or health system that has demonstrated excellence in advancing health equity in rural or small communities.
You can apply for this year's awards by Dec. 1. Learn more about the 2023 awards and apply here.
Speaking of Mount Sinai Health System, have you watched this video? It features leaders from Mount Sinai discussing their efforts in health equity that led to the health system being recognized as the 2022 Equity of Care Award winner.
Organizations can learn even more about Mount Sinai's impressive equity journey in a case study AHA will share later this month. Keep an eye out to learn about how data fuels the core of Mount Sinai's health equity efforts, as well as the creation of its task force to address racism at the height of the COVID-19 pandemic.
If you have any questions about the Equity of Care application process, we're here to help. Email Sonia Malik at smalik@aha.org with your questions. We look forward to reading your application!